Shiloh, a 3-year-old golden retriever, works as a hospital therapy dog that comforts the doctors and nurses at high-trauma units.He even has his own ID to identify him as part of the staff.He has become a bright spot for the staff during these especially trying times.
While some hospitals enlist the help of a therapy dog to help comfort patients, one hospital decided to have one for the staff.The program Buckeye Paws has tasked Shiloh, a 3-year-old golden retriever, to work as a therapy dog for doctors and nurses in the high-trauma units of the Ohio State University Wexner Medical Center.
The adorable pup even has a uniform and an official ID as a part of the hospital staff.The program was founded by Shiloh's mom, Mary Justice, a hospital administrator, and Beth Steinberg, an associate chief nursing officer.The pair both had pups that were training to be therapy animals, which then inspired Mary to launch the program.She told The Dodo, "While we were in class, I started to talk to Beth about how I've done therapy dogs for [hospital] patients, and for people in nursing homes and taking them to see children in schools.
And while that's really rewarding, I think there's this whole population of workers right where we are that experience a lot of stress."
Mary shared that Shiloh "has a strong ability to read people" and search for those most in need.
After launching in early March, the Buckeye Paws program had to be suspended as coronavirus cases continued to rise.
But such a difficult time meant that the hospital staff were in more need of comforting therapy dogs, so the program consulted with the dean of veterinary medicine.
After learning of the necessary precautions to take, the pups were able to return to the hospital.
"When we brought them back, it was like a sigh of relief from our units. We've been active ever since. And we pay particular attention to our staff who are dealing with a majority of COVID patients," Mary shared.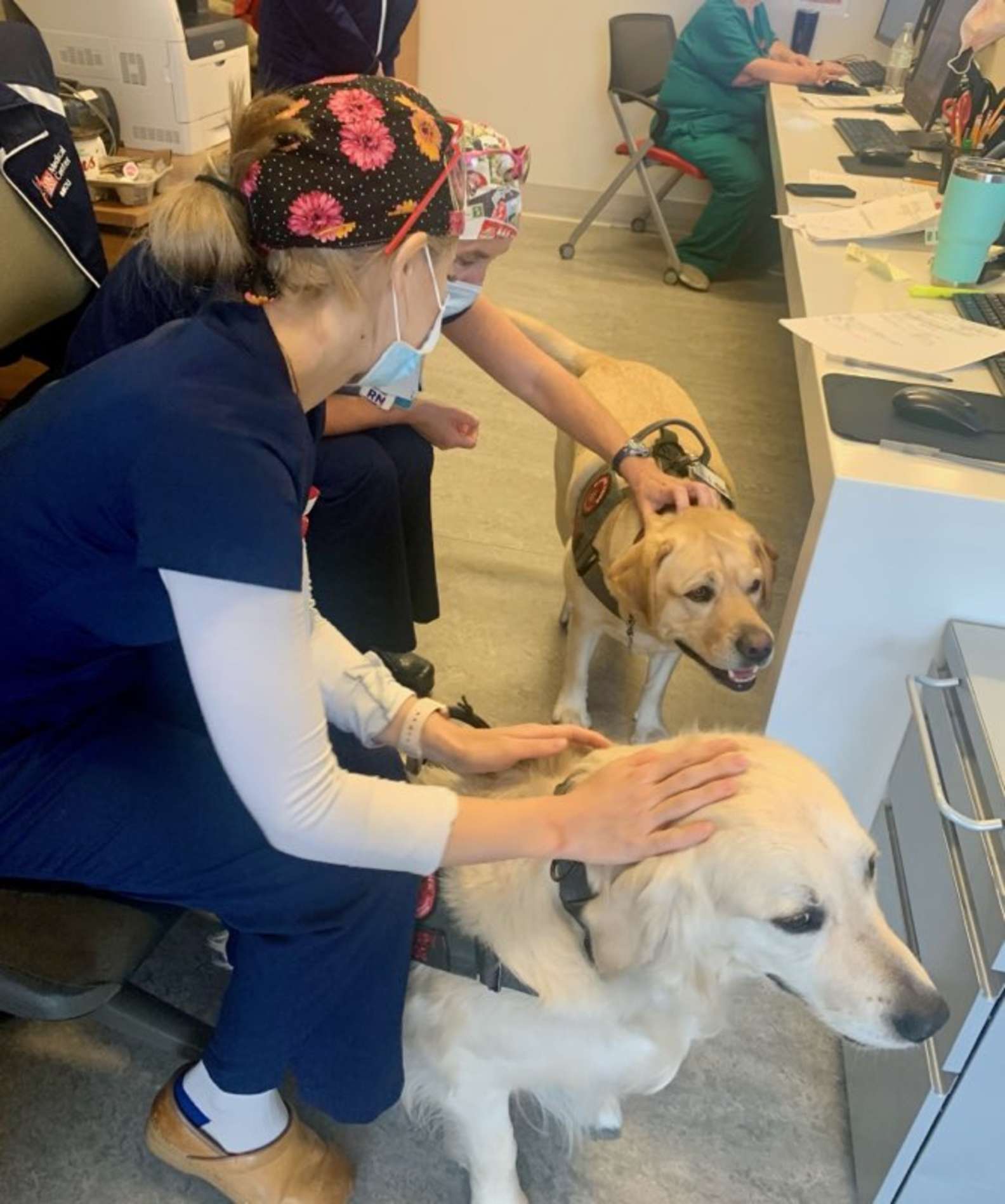 Mary shared, "I had an interaction with one young lady over the weekend, she ran up to Shiloh and said, 'I need him.' And started crying and held onto him. The impact is just immeasurable."
Shiloh may be busy at work, but after his "shifts," he still goes back to a regular dog who plays and has fun.
"It's such a blessing to be around a guy like Shiloh. He's pretty amazing," Mary shared.