Two pups, Monty and Rosie, surprisingly ran into each other while they were out on a walk.
The two pups instantly recognized each other — they were long-lost siblings!
The adorable siblings immediately jumped up and gave each other a heartwarming hug.
Family reunions are always heartwarming, more so when you haven't seen each other for so long.
It turns out that it might be the same for dogs!Two such pups, Monty and Rosie, surprisingly ran into each other while they were out on a walk.They recognized each other the instant they spotted each other. And they immediately jumped up and gave each other a hug!It turns out that Monty and Rosie were siblings that came from a litter of six cockapoos (the cross of a cocker spaniel and a poodle).Rosie's mom, Susan Killip, told The Dodo that the two had been particularly close and "were always together."
Monty was adopted by Susan's friends, who live in a nearby village. They had also kept watch of Rosie for a week, but the two siblings lost touch thereafter.
That would explain such an endearing reaction when they finally reunited last month!
"It was so lovely, they both just jumped up and hugged each other. It was amazing they remembered each other after 10 months of not seeing each other," Susan shared.
The wholesome moment was captured in photos, which were then shared on Twitter by Libby Pincher, along with a screenshot of the conversation she had with her dad.
In the conversation, her dad wrote: "So, Dave was out walking his dog, and there was a couple walking towards him with a white version of his dog. Turns out they are brother and sister from the same litter. But instead of just playing like they do with other dogs, look at this."
Everyone was convinced that the two siblings remembered each other.
If not, it's possible that they felt a strong sense of familiarity or comfort with each other.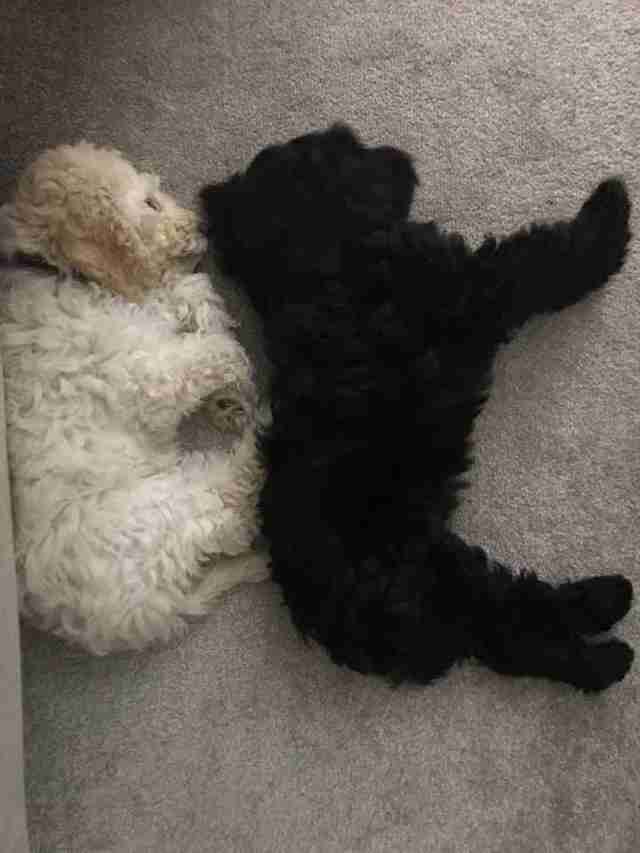 Here's one explanation from Tufts University: "Dogs of the same breed often gravitate toward each other. What we know is this: The scent of another dog stays with a dog for a long time … But whether the dog is processing that it's a familial connection, we'll probably never know for sure."
Dog siblings hug each other Photo Credit: Susan Killip
No matter the explanation, it was an incredibly touching moment.
Monty and Rosie's parents are now set on making sure they see each other regularly once the coronavirus restrictions have been lifted.
"We will keep in touch. [It's] a bit difficult at the moment, but after this is all over, we'll be having doggy walkies together," Susan promised.