Baby Chloe shares a tight bond with her two Golden Retrievers, Colby and Bleu. The dogs always stick by her like loyal protectors and best friends.But with time, they have learned to slyly use her help in to fulfill their personal needs!This video was captured by the baby cam setup by Mom when she found baby Chloe missing from her crib and roaming around the house very early in the morning.
Mom saw that Chloe was busy feeding her pooches some dog-food, so she decided to check the baby monitor footage.Sure enough, the dogs were banging at Chloe's door at 6 AM! The dogs not only wake Chloe up, but also coax her to get out of bed and feed them.At one point, they even pull out her toy so as to bait her into following them to the kitchen!
Chloe's dad admires the dogs' love towards Chloe. He feels that they intently keep track of her growing limbs, and executed their plan just at the time when Chloe had grown tall enough to reach the dog-food box.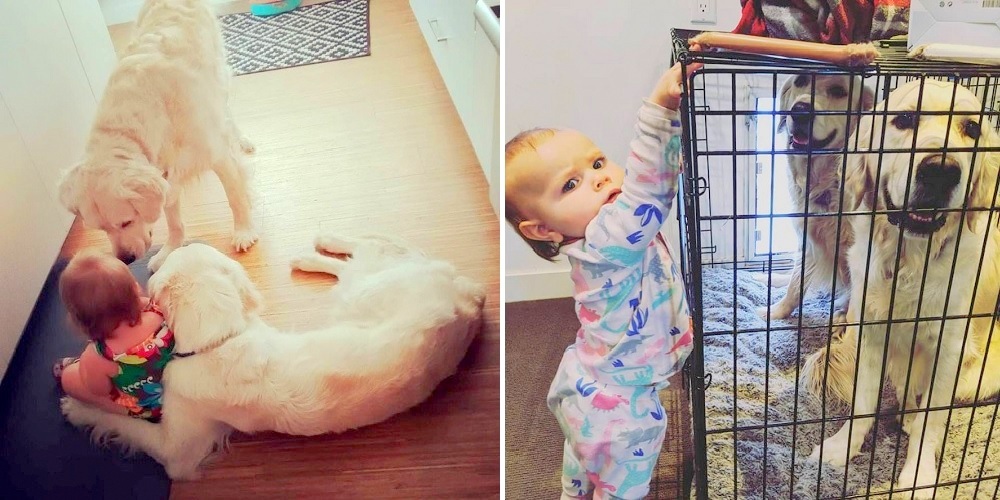 Smart boys! This video (with its hysterical captions) will definitely make your day!
Click the video below to watch Colby and Bleu train Chloe to become the perfect partner-in-crime!