Franklin simply loves cuddling with his mom Lindsay, even during her work hours.Lindsay realized that he especially wants cuddles whenever she's on her "work chair," so she decided to get him a matching one!Franklin couldn't stop smiling the moment he realized that he got his own chair that matched with his mom's.Franklin, a dachshund mix, loves cuddling with his mom, Lindsay Dyer. And his mom loves it too.
But sometimes, he can get too clingy, which can be distracting when his mom has to work. Realizing that Franklin loves cuddling with her in her "work chair," Lindsay decided to get him a matching one.Lindsay describes Franklin as "a super chill boy" who simply loves being with "his people or his cat brother, Bagheera."Franklin loves being around Lindsay, especially when she does her work from her gray wingback armchair. But it quickly became distracting for new remote worker Lindsay.
After struggling to work with Franklin on her lap, Lindsay found the perfect solution.
"I saw that IKEA had a matching child chair," she said. "I was hoping that getting him his own chair would make him stop stealing mine and went to get it the first day IKEA opened back up."
She confessed, "The decision to get him his own chair was an entirely selfish one."
Still, it proved to be the best gift for Franklin. When he spotted his favorite stuffed toy on the smaller chair, he instantly realized what it meant — and his face was priceless!
Lindsay shared, "Needless to say, he's very pleased. It's his favorite spot in my office."
Bagheera, Franklin's cat brother, also considered the small chair his favorite place. Luckily, the generous Franklin didn't mind sharing.
The "best friends and sometimes enemies" have to "share the chair — much to Bag's disgruntlement," Lindsay shared. "But they constantly cuddle on the chair or any bed they can find and don't like to sleep without the other."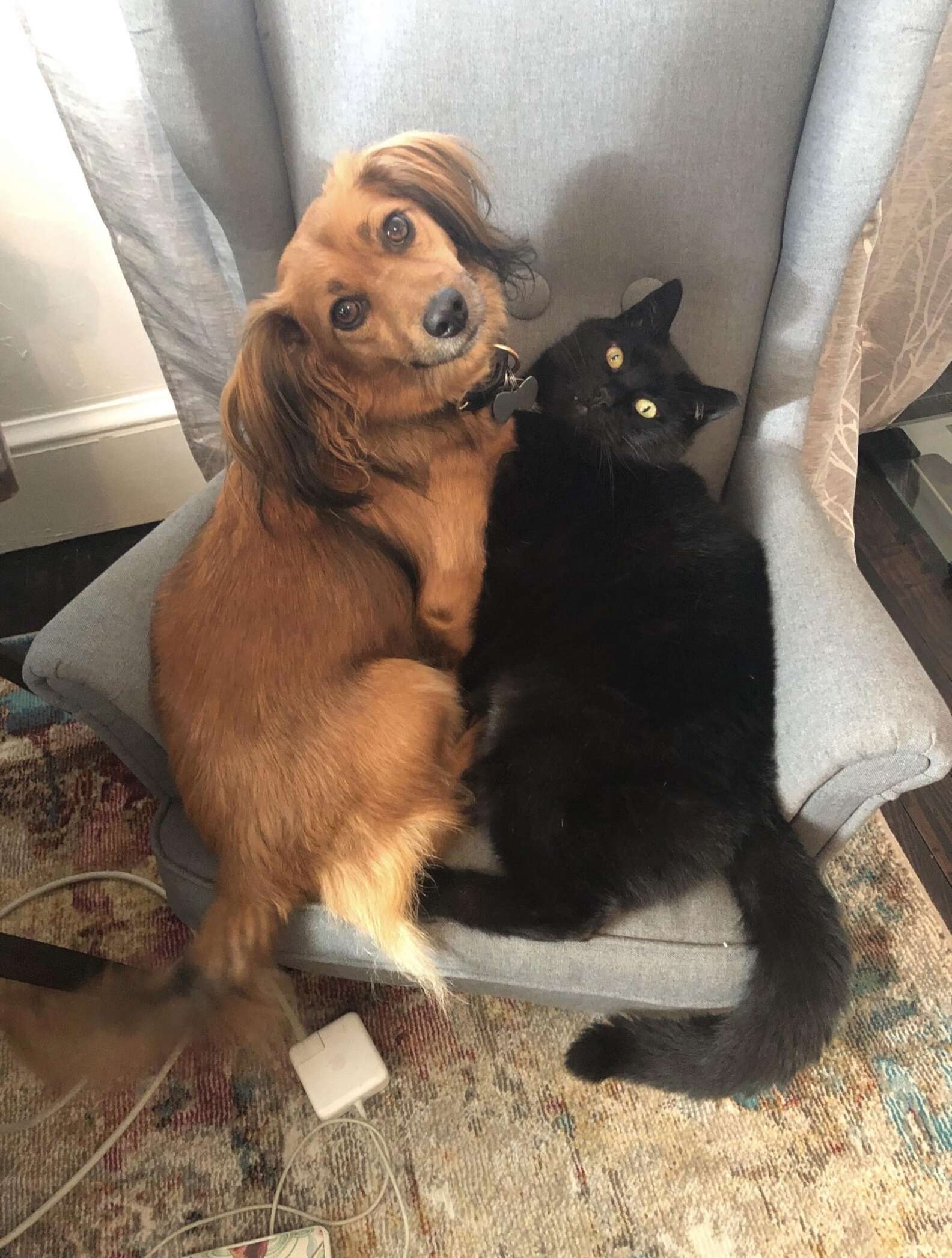 Such cuties! It's heartwarming to see how a chair could bring so much happiness to these two adorable furballs.